Poetry
Prizes
C.L. Dallat's poem Giant won the Keats-Shelley Memorial Prize in 2017, and his Love on a Rock won Ireland's leading poetry competition, the Strokesown International Poetry Competition, in 2006. Other prizes include Cardiff International, National/Poetry Society, Bridport, Amnesty International, London Writers, Torbay, Kent & Sussex & Cheltenham.
Publications
His poems have been published:
in literary magazines & journals including

TLS

, Guardian, Honest Ulsterman, North, Poetry London, Poetry Ireland, Magma, The Wolf, Verse, Fortnight, Oxford Poetry, New Welsh Review, Metre, Smith's Knoll, Sunk Island, Southfield, Manifest,

GLS

, Upstart! & Gairfish
in US journals including Ploughshares, Cimarron Review, The Best Verse, Big City Lit, Ocean State Review & Pivot
in anthologies including The Blackbird's Nest (Blackstaff, 2006), My Mother Wore a Yellow Dress (

ACNI

, 2007), From the Small Back Room (Netherlea, 2008), KG Confidential (Circle Time, 2015), Divers: the Poetry Workshop Anthology (Aark Arts, 2008), Stanley Spencer Poems: An Anthology (Two Rivers, 2017) and in numerous poetry-prize prize anthologies
on Poetry Broadsheets (Goshen College, Indiana), on websites, & in the Words in Air app (John Kennedy/iTunes)
alongside Lillian Holt's painting, The Canyons of Chihuahua, Mexico (1964) in A Sense of Place at Madejski Gallery, Reading Museum
in Trio 7 with John Kelly and Sean McWilliams (Blackstaff, 1992);
in Morning Star (Lagan Press, 1998);
& in The Year of Not Dancing (Blackstaff, 2009) .
Buy via PayPal
Buy The Year of Not Dancing (publ. price £12.99) plus free copy of Morning Star (publ. price £4.95) incl. p&p for special web price of £12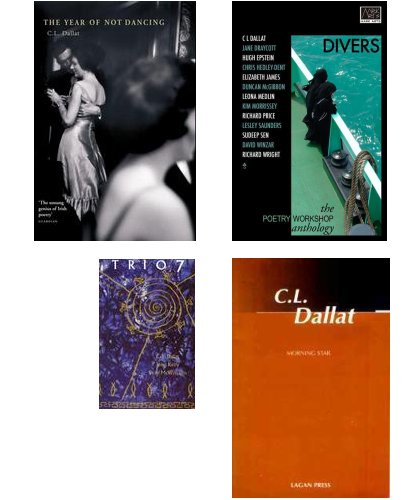 Quotable Quotes
"The unsung genius of Irish poetry" Guardian*
"These are brittle, icy elegies … a wonderful collection" Poetry London
"Redemptive in its vision … a searchingly intelligent exploration of the enterprise of writing poetry of witness" Thumbscrew
"This mixture of tender love poems & elegies is worth looking out" London Magazine
"A sparkling collection, elegant, sophisticated and witty" Poetry Ireland Review
"The real attraction of these poems is in their sense of dislocation, of restlessness, of passing through" Books Ireland
"Exhilirating and suspenseful images of willing and securing safety by the tips of the fingernails … a work that takes it in turn to be open and welcoming and to render reality at a pleasingly oblique angle" Southfield
"Absorbing subject and assured technique" Oxford Poetry
"More good things from another Irish poet, the up-and-coming Cahal Dallat" Times Literary Supplement
"Happy to play the romantic, in the end he inhabits a world which is exploratory and unsettled" Fortnight
"Shadow and substance, fantasy and reality, morality and politics merge into a single word …" Irish News