Cahal Dallat: Poet, Musician and Critic
CL Dallat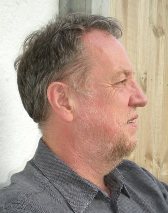 London-based poet, critic, musician (b. Ballycastle, Co. Antrim, educ. Queen's University, Belfast)
poetry awards include Keats-Shelley Prize, 2017 (see 'Giant', right) and Strokestown International Prize
plays bandoneon, musette-accordion, flute, mando-fiddle, piano, clarinet, soprano-sax etc; resident musician at Coffee-House Poetry at the Troubadour from 1997
writes on Irish fiction & drama for literary journals including Times Literary Supplement and Guardian
regular panellist on

BBC

Radio 4's weekly arts magazine, Saturday Review, from 1998
teaches creative-writing masterclasses and poetry seminars, lectures on literature/music/history, joint talk/music/poetry events with poet Anne-Marie Fyfe (to whom he's married)
Causley 100 musician/poet-in-residence at Charles Causley's house in Cornwall, writing new settings for Causley poems (Summer 2017)
Research Fellowship at the Harry Ransom Center of the University of Texas in Austin (Spring 2018), supported by the C.P. Snow Memorial Fund
organiser/inspiration behind WB Yeats Bedford Park Artwork Project marking 19c London artists'-colony where Nobel-prizewinning poet/dramatist

WBY

lived
John Hewitt Society committee-member, involved in John Hewitt International Summer School in the Antrim Glens from 1988, and in Armagh from 2003
Buy The Year of Not Dancing (publ. £12.99) + free Morning Star (publ. £4.95) inc. p&p for special web price of £12 via PayPal on poetry page.
Diary
Wed 31 Jan, 7—9.30pm, Charles Causley: the Sounding Heart, A Centenary Lecture with CL Dallat presented by The Poetry Society & Charles Causley Trust at The Poetry Cafe, 22 Betterton Street London WC2H 9BX
Feb—Mar, Mon 8pm fortnightly, Spring 2018 readings hosted by Anne-Marie Fyfe with music by CL Dallat, at Coffee- House Poetry at the Troubadour
Mar—Apr, Spring 2018 Research Fellowship at Harry Ransom Center, University of Texas in Austin, supported by CP Snow Memorial Fund
Apr—Sep, The Voyage Out workshops & talk/reading/performances by Anne-Marie Fyfe (with music at performances by CL Dallat) in US, Canada, England, Ireland, Scotland & Wales
Mon 23 Jul—Sat 28 Jul, John Hewitt International Summer School 2017 at Marketplace Theatre Armagh City
Reviews/Coverage
The Year of Not Dancing reviewed by
From the Archives
Poetry Couples in Magma 40
Giant
The one exceptional thing about him—
as we worked late August nights on import
software for Italian racing-bikes for his friend Italo,
percentage landing charges, demurrage, lire
conversions and freight forwarding—
was there was nothing exceptional about him
if you ignored the tallest-man-in-the-country
thing, maybe in-the-world back then, and maybe
his giant-size civility. And that we'd take
our son to watch him at Sunday soccer
though basketball was his first love, or to see
him play a circus giant in the Merrick film.
(Yes, in-the-world, probably—a Melbourne chain
had him open 'giant' hypermarkets across that huge
continent). And that his VW driver's seat
was well in the back, his racing-bike a pair
of penny-farthing 'pennies' with eleven gears.
Our children found out giants today
far from overbearing could be wry,
awkward and funny—like, but not at all
like, anybody else. And even when he sat
right down on our low-profile sofa
he couldn't avoid talking down to us.
The papers when he finally passed on
would focus mostly on the ten pallbearers.
Winner, Keats-Shelley Prize, 2017
Love on a Rock
Who could tell them now – out in the world,
its plethorae of arc-lights, halogens, discos —
those lighthouse children with listening eyes,
now the last tin cup, plate and fork
are stowed in the last canvas bag under
a fo'c'sle and rowed with their owner
to the supply port, gold watch and severance.
But you'd know them then in utility brown-
and-cream rooms, wiser in their generations
than world-children; at jonquil Formica tables,
sucked HB stubs at poise to take down
wireless PO boxes, or describe collections
and hobbies to comics; devouring a quarter's worth —
in a morning — of Dandys and Beanos and Judys
since the weather last faired; or dwelling
on all missing lightkeeping men …
know them playing ecksy-oseys in winter,
hopscotching the one slab of cement
between storm door and fairweather jetty:
and know by their manners when bible-people
came with flasks in baskets and Old-Testament
crayoning books, or hikers with tripods
to put the rock in their textbooks and maps.
You might see them still, if you're careful
on city-hall or tower-block stairways, left
foot tiptoed on an absent stiletto from years
navigating anti-clockwise tight spiral stairs:
or find them when everyone's gone,
rocking against the emulsioned wall
in the dark of a seventh-floor office
and the sound that you hear isn't them
but the thinness of baby-seals' weeping
or the contralto with auburn-grey wisps
chanting the bright stormy sea as she folds
the cold grey sheet down and Trinity-
House-issue blankets, tells them never
to fret. Or their lilting along to the small-
gansied man with pipe-grime under
his left index-nail rippling a hornpipe's
slow triplets on a Breton concertina.
And you'll know them in truth for children
of the rocks, for they'll have preset
the Xerox's counter right up to the thousand,
lid-up and nothing on the glass, eyelids
numb on the margin of sleep as the phasings
of light take them home to the beam-room again.
Winner, Strokestown International Poetry Competition, 2006
Listen to Love on a Rock and other poems on Poetcasting